Diamon-Fusion
Protective Glass Coating
Looking for InvisiRail in your area?
About Diamon-Fusion® Protective Glass Coating
Diamon-Fusion® is an ultra-thin, UV resistant, protective glass coating that transforms ordinary glass into a high-performing, water-repellent surface. Similar to how a non-stick cooking pan works, surfaces treated with Diamon-Fusion® become easier to clean and requires less care to maintain.
The invisible barrier created in the Diamon-Fusion® process is also extremely smooth, which helps prevent environmental pollutants, hard water, and soap scum from damaging the glass.
At a microscopic level, glass is quite rough. Inevitably, this allows minerals from hard water, soap scum, and environmental pollutants to easily penetrate the surface causing unwanted stains. Diamon-Fusion® prevents this from happening by creating an ultra-thin, transparent barrier that seals the glass.
It's patented, two-step process chemically bonds to the glass filling in the microscopic peaks and valleys of the surface.
Technical Features and Benefits
Web-like nanocoating – chemically bonds with glass
Hydrophobic (water-repellent) – 90% easier to clean
Oleophobic (oil repellent) – 90% easier to clean
Scratch resistant – prevents abrasions and scuffs
Chemically inert – no adverse reactions once applied
No cure time – instantly bonds to the glass
100% optically clear – transparent nanocoating
Anti-corrosion – protects against heat and humidity
Coating thickness – < 40nm (nanometers)
Protective Coating for Shower Doors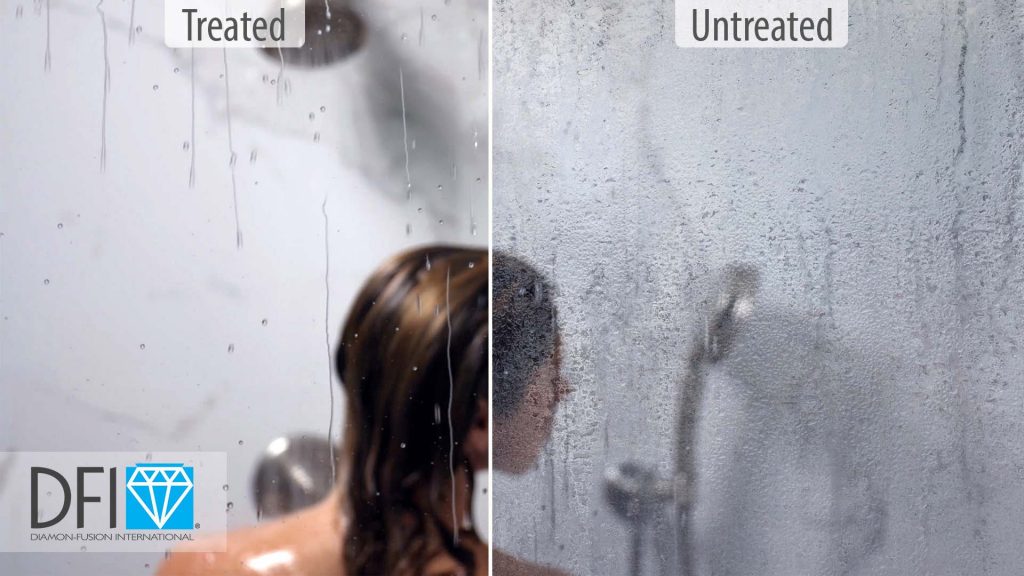 Diamon-Fusion® protective glass coating for shower doors is the industry-leading choice for homeowners and glass professionals, having been applied to over ten (10) million shower doors worldwide. Similar to how a non-stick cooking pan works, surfaces treated with Diamon-Fusion® become easier to clean, require less maintenance, and help prevent hard water stains.
Prevents stains, corrosion, and etching
Eco-friendly; eliminates harsh chemical cleaners
Cuts cleaning time up to 90%
Keeps glass cleaner between cleans
Limited lifetime warranty
No revitalizer or aftercare products required
Suitable for new and existing glass
Helps prevent the buildup of limescale
Protective Coating for Glass Railings
Protect both sides of your glass railings from corrosion, etching, and staining with Diamon-Fusion® protective coating. By chemically bonding with the glass, Diamon-Fusion® transforms ordinary glass railings into high-performing surfaces that cut cleaning time and keep the glass looking cleaner for longer. Applications are suitable for both residential and commercial surfaces.
Prevents stains, corrosion, and etching
Eco-friendly; eliminates harsh chemical cleaners
Cuts cleaning time up to 90%
Protects against rain and sprinkler water
Lifetime warranty on residential surfaces
15-year warranty on commercial surfaces
Enhances glass window brilliance and clarity
UV resistant; won't break down in sunlight
Diamon-Fusion® Protective Glass Coating for Residential Glass Railings
Diamon-Fusion® Protective Glass Coating for Residential Windows
Diamon-Fusion® Protective Glass Coating for Shower Doors
Diamon-Fusion® Shower Door Care